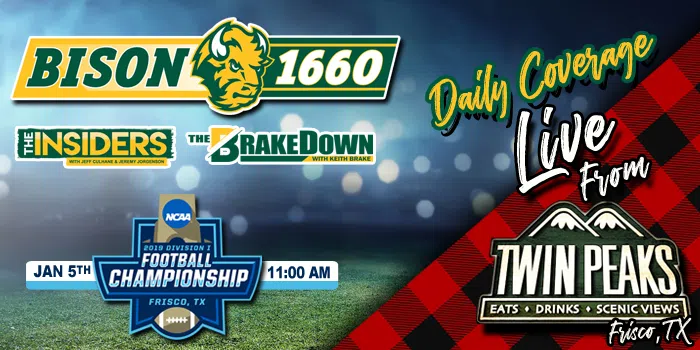 As the NDSU Bison go for the 7th National FCS Champsionship,
Bison 1660 will be LIVE from Twin Peaks in Frisco will all the info you need!
We've also teamed up with the Bison Former Players Association to bring in the legends from the NDSU Football program! Listen for exclusive interviews or stop by Twin Peaks in Frisco to meet them in person!
Featuring Special Guests: Nick DeLuca, Cole Davis, Aaron Skyberg, Chuck Klabo, Chad Stark, Sean Fredericks, former NDSU DE's Coach Jamar Cain, Cole Jirik, and Nate Tanguay.
Wednesday, January 2nd:
The Brakedown Frisco Special 4-6pm
Thursday, January 3rd:
The Insiders 11am-2pm
The Brakedown 3-6pm
Friday, January 4th:
The Insiders 11am-2pm
The Brakedown 3-6pm
Saturday, Jauary 5th: 
LIVE Game Day Coverage from Toyota Stadium in Frisco, TX
5:30-7:30am: The Weekend Kickoff with Andy Rieckhoff
7:30-8:30am: The Bison Tailgate Show with Brad Jones and Nate Tanguay
8:30am-10:30am: Bison Gameday with Keith Brake and Cole Jirik
10:30am-2:30pm: FCS National Championship Game with Jeff Culhane, Jeremy Jorgenson and more!
2:30pm-4:30pm: Bison Hotline with Keith Brake, Cole Jirik and Chris Hanson
 WHERE TO FIND US IN FRISCO